Syl.
Nov 11, 2008 11:26:24 GMT -5
Post by admin. on Nov 11, 2008 11:26:24 GMT -5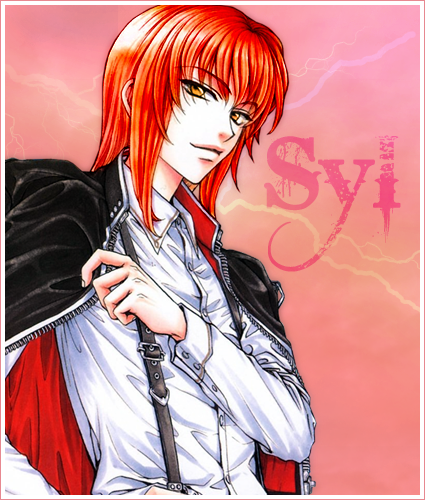 Full Name
Syl
Age
22
Gender
Male
Sexuality
Unsure
Stats
[/u]
- Ht: 6'4"
- Wt: 144 lbs
- Eyes: Yellow/Golden/Brown hues mixed together
- Hair: Dark Red
- Badges: 7
Ambitions
- Prevail over every gym.
- Train the strongest Pokémon.
- Nail some hot guys/girls.
Appearance
(see above picture for more details)
His long red hair is sometimes pulled into a ponytail, but most of the time it's loose and free, hanging just passed his shoulders. He rarely brushes it. A long black coat is draped over a tight black wifebeater. Loose black pants hides how gangly his legs are - something he's always been ashamed of. He never goes anywhere without his heavy black boots, which he uses for hiking through tough terrain in search of new Pokémon. He has a light build, is fairly thin, and stands at just over 6'4".
Personality
Syl is an asshole. He's sarcastic and mean, likes being undercover and slumming it in back alleys selling drugs and other illegal activities. He's also a complete coward, and will run at the first sign of trouble. He's afraid of the police, anything bigger than him, things with teeth, spiders, bodybuilders, transvestites, and dying.
Syl isn't very smart. His favorite word is "fuck". He's usually oblivious to everything until it's right in his face.
He's rather raunchy, and likes to have casual anonymous sex with people he hardly knows. He has very few morals, and a general disregard for the law. He smokes, he drinks, he curses, he gets into fights, and he doesn't care what anybody thinks about it.
Egotistical to the bitter end, he really, really loves himself. If he had his way, he'd gaze lovingly at his expression for hours on end. He likes himself. A lot.
Biography
Syl grew up in a wealthy family. As a child he was snobbish and arrogant, developing a strong sense of entitlement. He never liked people. His parents gave him everything he wanted, and as a result he never had to earn anything on his own. Syl's skated through life easily.
His mother was a cold, emotionally unavaible woman who was more concerned with her looks and staying young than her son. She always forgot he was around, and ignored him. At first begged for her attention, but later fell into a habit of acting out. He broke the rules, and later the law, just for a little attention. His father was always gone on business, and had numerous affairs that both Syl and his mother were aware of.
At 17, after getting arrested for the fifth time, he ran away from home to become a trainer. His father was around less often, and his mother was too neurotic to handle anymore.
Random Facts
- Born Dec 12 - Blackthorn city, Johto
- Favorite Pokémon is one of the girliest - Mesprit.
- Although he pretends not to care what others think, his image is really important to him. He wants to be known as the tough guy, but still wants people to like him. Odd.
- Based on the GSC Rival character. :x haha unoriginal.
- He drinks and smokes. He's typically seen with a cigarette in one hand and a flask of vodka in the other. Healthy.
- Preferred types of pokemon: Fire, Dark, Ghost, Steel
Sprites


[/center]