Dire.
Nov 4, 2008 8:01:09 GMT -5
Post by admin. on Nov 4, 2008 8:01:09 GMT -5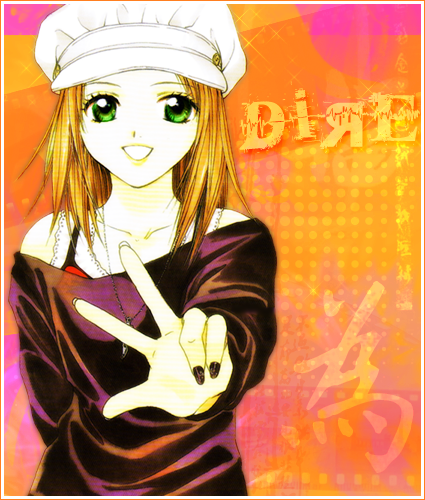 Full Name
Dire; last name not given
Age
19
Gender
Female
Sexuality
Straight
Stats
[/u]
- Ht: 5'2"
- Wt: 128 lbs
- Eyes: Green
- Hair: Dirty Blonde
- Badges: 0
- Titles: 0
Ambitions
- To obtain every species of Pokemon.
- Prevail over every gym.
Appearance
(see above picture for more details)
A short, slender girl, Dire isn't exactly intimidating or spectacularly attractive. She absolutely reeks of ordinary, looking like every other face that comes along.
Her dirty blond hair hangs loosely around her shoulders, kept out of her face by a white hat. She has her mother's green eyes, which are often dull or angry. She wears a far-too-big purple sweater that shows off her shoulders, and a red cami under it. It gets simpler from there - long black pants and matching black boots for hiking.
Dire has absolutely no time for accessories. The only thing she carries with her is her over-sized purse, which holds all of her trainer items and not much else. She wears no makeup except for the occasional bit of nail polish in varying colors.
Personality
On one hand, Dire is a calm and serious girl. She's dedicated her life to capturing every species of pokemon, and will stop at nothing to achieve her goal. Not afraid to push people around, she's never had many friends as a result of her icy attitude. She's rather stuck up, and thinks everybody owes her something. She's selfish, greedy and intelligent.
She has little respect for her peers. Most trainers she comes across are insulted or passed by with a shove and a cold glare. However she has great respect for Pokemon masters and other authority figures. She treats her pokemon fairly well - they are not friends, but they are not servants either.
Dire rarely speaks. Even in battle, she utters very simple commands and not much else.
Biography
A middle child of a large and wealthy family, Dire's never had any problems getting anything she wanted. Her father was a businessman who was often away on travel, so he spoiled his children with objects and money instead of giving them the love and attention they needed.
As a child, she attended the best schools, but lacked friends and social interactions. She kept to herself mostly, even ignoring her siblings. She would never admit it out loud, but she often felt lost in the crowd - even within her own family. She was just another face. Nobody important.
And she vowed to change that.
Her mother was a Pokemon trainer in before marrying, and told her children lavish stories of her youth. As a result, two of Dire's older brothers became trainers when they came of age. Dire herself got quite a late start - she never had any desire to train pokemon until she was around 18 and out of school. After saying goodbye to her mother and younger siblings, she headed out to start her own journey.
She resents the fact that her father was never there for her, and that he was the one who effectively stopped her mother from furthering her pokemon career.
Random Facts
- She has 6 siblings; two older and four younger.
- Her mother gave away all of her pokemon from her journey when she married Dire's father.
- She likes posing for photographs. It's perhaps the only time she smiles.
- Her favorite pokemon is Castform. Her second favorite is Ditto.
- She doesn't keep in contact with any of her family.
- She started smoking when she was 18 to spite her father. She hasn't stopped since.
- She was born on April 26th, and is a Taurus.[/center]