Post by Zac Tucker on Jul 2, 2018 5:12:10 GMT -5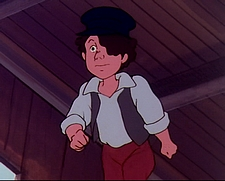 zac tucker.
The city kid in a silk hat
| | | | |
| --- | --- | --- | --- |
| AGE | GENDER | ALLEGIANCE | OCCUPATION |
| seventeen | male | resistance | rogue |
APPEARANCE
The phrase, 'don't judge a book by its cover' is about as true for Zac as for any person. But for him, the phrase stands out a little more than ost. Brown eyes peer about for adventure. The nose seems to stick out a bit more, giving Zac the appearance of someone...uh. Nosey. Sharply straight teeth hide in his mouth, washed about as well as someone in his position can. One of his molars are missing. Dark brown hair maintains a natural curl and little more. His active stances and limber movement only accentuate his youthful appearance. He's pretty lithe and his cheeks puff out some, but honestly, what can one expect of him? At 4'11", 105lbs?

His skin is pink, almost like chewing gum.

Despite being seventeen, he looks about thirteen and doesn't sound too much older. His age doesn't protect him from blemishes, either Look closely enough at his right leg and one can see a pretty nasty burn. His black "leather" shoes seem to, in fact, have been carved from a tire. His clothing is loomed of dyed straw or flax; his outfit rather unimpressive and peasant-like. Notably, however, he keeps a fur hat on his person. With a small brim but tall, expanding head, the silk hat shines as Zac's last beacon to better times. Anrui life has all but left him dirty. It might be oil, might be varnish, but you can tell where Zac's been working just from the aroma he gives off.


PERSONALITY
POSITIVE
- energetic
- focused
- clever
- acerbic
- self-truthing

NEGATIVE
- short-tempered
- shortsighted
- callous
- prideful
- bigoted
With Zac, what you get is what you get. He presents himself as fairly and honestly as he can. It's easy to lie, he suggests, but harder to keep someone in on it; by being direct with his intentions, he's found many more avenues than he'd ever expect as a church-going child. His cleverness extends to things that even he doesn't expect to be any good at, like using motions from sweeping the docks to help him till the land or draw a line in the sand.

His dialect doesn't typically befit the average wharf-boy, either. Yeah, he studied his thesaurus alright. He doesn't beg for money, nah; he offers an opportunity to get a kid to work. Sometimes it works! And sometimes he needs just a bit more effort. Sure sounds invested in whatever he's doing, no matter if there's one or a hundred people there. Zac's naturalized to crowds and doesn't really understand those that don't know how to deal with them.

Because he's been on the same street as literally everyone else he knows, he knows that people rob and have been robbed; knocked out and have been knocked out. And if the latter happens to him, well, yeah. It sucks. He'll try to break a brick with his hand or something equally unlikely because yeah, he's pissed off. Doesn't take him too long, however, to go and work on that very next thing.

There are period where, yes, Zac's pretty industrious. He's gotten his secondary diploma, He goofs off a lot, particularly when asked to do something that he considers beneath him. Oh god, he's one of those. You won't find him on online message boards, declaring himself the protector of women or anything quite like that, though. Zac fancies he's fashioned himself a character from the war, and constantly believes that he's .

Well for one, he's kind of a dick. Doesn't hold out from profanity quite, either. Reason one that back molar's gone.
But there are some people he just can't stand. Crybabies? Grow a pair - even the short guy did it. Doomsday folk? Forget it, won't happen. And people who want to tell him what to do? They can piss off too. Especially for 'experiments' or whatever the fudge they wanted to do. He's pretty sure that Plasma's using that as control for everything that doesn't like them, and isn't really one to negotiate with them.

Most of them.

You want to try? Give him a good reason.

BACKGROUND
This child was a somewhat planned second son in a big farming family off Route Seven and Kairo Town. Some fifteen kids were out to help do work and Zac was just the seventh. Papa Joe and Mama Dearly kept a good eye over their little brats. Zac went to a small primary school, , and paid attention to the alarms whenever a Snorlax or Torterra walked onto the property. He got the nickname "Slackjaw Tucker" for whenever his jaw dropped at the sight of the wild Pokemon.

Not to say his parents didn't put him into line and have him pick the corn, barley, or cotton. Weren't afraid to paddle them if they went too far out of line, either. Family. Joe's Pokemon held most of it steady. They were fairly in-tune with Plasma, too. When news of ROT spread, the Tucker farm was among the first to allow Plasma inspection.

And Zac found it a little weird, but eh, happened. More weird things, but eh, happened. It was a bit scarring to see a Pidgeot get euthanized by a Plasma officer. Seeing its eyes look around as if looking to find the last bastard that put it in that position. The family brought it up and discussed it, and it became less of a trauma. Whatever the case, Zac sure wasn't going out like that, no siree. Before the disease ever spread to him.

All that changed when a second cousin, Mr. Clark Tucker, came by for a family reunion. HIs outfit, something sleek and unlike anything he'd seen in the town, amazed him. All the weird devices that he put to use...he wanted that. Some of the other kids wanted that too. After some negotiations that Zac remembered as 'bitter,' he and three other siblings followed Clark to good 'ol Hyo City.

Look, people marked it as dangerous territory. And perhaps rightfully so, given the feral Pokemon roaming around. But as a sheltered kid from Route Seven who never did get the chance to leave home (even for good reason) Zac loved it! The new freedom to see almost anything he darn well wanted! The ability to look down the sewer pipe and maybe see a Magikarp every here and then! The thought that he could talk to people he hadn't when he went to school, and see airplanes and watch the power plant churn! Like, woah!

Even under a lower-middle-class life, some things did go sour, yes. While he did manage to go ahead and complete his schooling under his uncle's supervision, at the same time as Arty Tucker (18 and a half years old), the boy got caught in a restricted zone by Plasma patrol. Eleven times he heard the, "no kids here" message and got dragged out. Just a 200 kilos grunt doing his job. Said grunt overheard that his dad was Clark. Strike one.

Then Zac decided, in his boredom, to paint goofy eyeballs over a bulletin portrait of a Resistance criminal. Camera behind him. Plasma patrols caught him. He noticed the glass eye, and a little irked that his personal time got called off, called one a "googly-eyed Chansey fornicator that needed to shut up." Zac got beat up.

The last straw, just a day after his graduation, came after Plasma (again) caught him trying to punch out a Machop. Plasma actually went the distance to arrest him for three days, as a legitimate scare tactic. Once said, "Thanks for everything, Uncle."

Er. Correction. "Cousin."

"Come on. Zac, you know I love you..." a pause. Zac figured he was going to get cursed out, but not quite: "but you've gotta find work, son. I can't keep you here like some of your pals. I'm sorry." Finances indeed grew tight. Meals thinned. This was Zac's signal to leave home.

Uh, well. He packed up some supplies in his vest, gave his old man a hug, and set out for work.

Didn't quite find it. He didn't quite expect that of his adoptive mother. He didn't really think much of being a danger-area pizza guy after some non-Plasma grunts chased around a Magmar. Yeah the Magmar damn near burnt his leg off and holy shit it hurts. Because he was pretty decent with his hands, figured out how to make some money playing the 'barely educated high school graduate' trope. Even figured out how to disable a camera and oooh I get it now.

Plasma sucked. He had little now, but he would ensure they got their just due. His family would probably crucify him for it, but...honestly, Plasma kind of did that for him.
MISCELLANEOUS
| | |
| --- | --- |
| OOC NAME | FACECLAIM |
| Ytter | [b]the adventures of tom sawyer[/b] - faceclaim name, [i]zac tucker[/i] |