Post by Lucas Gunnarsson on Jun 11, 2018 5:21:17 GMT -5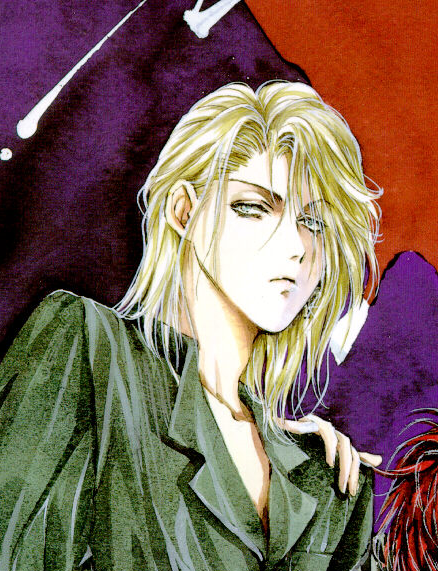 lucas steve gunnarsson
THE burnt orange
| | | | |
| --- | --- | --- | --- |
| AGE | GENDER | ALLEGIANCE | OCCUPATION |
| Nineteen | male | resistance | cobbler |
APPEARANCE
Lucas's appearance varies between the mysterious wanderer and the man parents install anti-stranger PSA's for. A black headband tends to keep his hair in something of a decent bun. A triangular bang, drooping for dramatic effect, may cover the left of his slanted, blue eyes. A straight blonde hair falls down, typically stopping at trapezius length. Triangular face appears with a strong jaw. A soft and deliberately slow voice, combined with a relaxed expression, makes Lucas appear uncaring. Or, if he's stared at a screen for a long time, high. Even when he's running, his expression doesn't appear as shocked as it should, even if he's screaming.

Neither his height nor weight stand out. 167 centimeters. 65kg. Crouching fat, hidden muscle, Lucas appears flat and undefined. Farmer's tan hits the white man fairly hard. Concerning his overall physical stature, there is nothing that distinguishes him from the average man. Smaller details paint a different picture. Long, curved feet require Lucas to slip forward as he walks. Despite capability of performing a full split, inflexible arms mean Lucas will never be seen performing the zipper stretch. A Drampa tattoo, spiraling from his left shoulder to his forearm, appears far sharper than the Dragon -type will ever be.

Typically, Lucas wears longer clothing, avoiding large logos or trademarks. Sometimes, he has to roll up the collar because the piece is just too long. He often wears a blue button-down, incorrectly buttoned so that one pocket lies above the other. He will wear this longer clothing regardless of season. He sees no reason in having funeral clothing or other professional articles, and so he will ask for a hand-me-down if ever demanded to wear one.

He is generally a clean person, though smells of cigarette smoke.

The cobbler's taste in shoes is, surprisingly, not terribly complex. A pair of solid, four-piece work shoes works wonders for him; those he hardly has to lace or put much effort into. Even when offered laces, they are oft untied. Lastly he tries to avoid large backpacks, keeping his other belongings in a thick sack tied beneath his shirt, where he hides needles and other miscellaneous materials.
PERSONALITY
POSITIVE
- determined
- inquisitive
- thick-skinned
- Decisive
- fast

NEGATIVE
- scatterbrained
- impulsive
- Destructive
- lustful
- sour
This lax-walking figure is deceptively quick. He slides around on his old shoes, taking a stroll with a cigarette, apple, or whole broccoli leaf in his hand. At the same time, Lucas's attitude is anything but lazy, despite his lax appearance. There is always something that can be done, and so Lucas almost industriously seeks it. He likes catching people off-guard first, as to him, that's how he can build trust or outwit the corner scammer. He also likes walking, to a degree.

It's easy to call someone smart, but a lot harder to explain why. Lucas is certainly educated, and has no hesitation in using it. He understands that the answer doesn't always end at the sign-in line. He provides much more weight to some decisions than others due to their immediate importance, working almost sequentially to get where he needs. Almost. He has a very limited sense of planning, and will often switch to another activity before the prior one is completed.

Lucas is bitter as others may be about him. If one were to ask Lucas why he joined the resistance, his answer would...well, he probably wouldn't say anything in Plasma territory. The right keywords can make anyone lose their cool. The premise of blowing as much Plasma property apart as legally possible, however, is an attractive prospect. Relationships also tend to end poorly at his hand, likely due to his own self-seeking personality and his habit of creating "nukes" to end relationships for good, which vary from radio silence to carefully-crafted commentary.

He is generally a man who will actively pursue what he wants. His own or an ally's inaction leaves him personally upset, even if it means avoiding a far worse fate. Despite this, he semi-regularly engages in verbal jostling and other self-effacing ventures. It helps him cope with his unusual living situation.

His list of friends basically consists of those that don't fall under his enemies list after a short amount of time. Lucas hates those that try to shove words in his mouth, make decisions in his name, or harps on an inane point. But the Twelve Angels forbid those that try to stonewall him. His time is too short to waste waiting on others for approval. Opportunity, to Lucas, is made and not gifted.

300 WORDS MINIMUM
BACKGROUND
This does not need to be too complicated. Include where they're from, a little bit about their family, their education, upbringing, etc etc. Make sure you mention key points that affect their personality. If they're from a different region, please include their reasons for coming to Anrui, and if they have Pokemon with them, how they smuggled them in.

Lucas Gunnarsson enjoyed a loud upbringing in the pseudo-tenements of Hyo City. The only thing distinguishing the tall buildings from tenement homes, were how the architecture was built to last instead of to line pockets. With a Anruian factory worker fathering and a smoke-addicted Hoenn immigrant mothering, he was the second oldest of four children, and the last son. Quite predictably, money ran tight, as even in the earliest years no child went without hearing the other scream and cry. Partly because of father Ingus Gunnarsson's quick thinking and firm hand, the household remained relatively stable.

Elder brother Markuss, along with younger sister Malta, were enrolled in the public school system. Lucas oft found himself in the library or climbing something in the school, earning some attention for doing so. A promotion on his father's side, a brief move to Kain City (before moving back after a better job offer), and his mother finally being convinced to work, spared the family from desiccation.

This relative peace wouldn't last too long. Somewhere in later primary school. As Lucas found out reading the paper, his mother got caught trading [REDACTED], a very potent narcotic often associated with hypnosis and mind control, so she got caught and sentenced for five years.

The discovery left Lucas at odds with his. It wouldn't even be until much later until Lucas learned that his mother peddled those drugs to Plasma sources, labeled as 'Resistance traffickers'. He didn't understand much about the riots going on in TV, but what he knew were that many people were put down. While his mom was lazy and sometimes bitchy, she didn't seem the type to know about dangerous. He sat outside sometimes and waited for Rebel sources to appear, sometimes asking around, but none answered. None even knew about what happened. The incident left Lucas with an unrequisited thirst to get back at 'em.

He would continue his schooling, where he would perform so-so in his writing courses but excellently in his mathematics/sciences. At the age of 16, he would enter the summer program, where he learned to tailor clothes and. The art of repair made a lot of sense in Lucas's mind; what was once broken should soon be fixed. In this summer program Lucas proved a quick learner, but used his as he briefly reshaped a shoe as a phallus. While he was reprimanded for the action, because he proved quite good at his trade, however, an older gentleman named Ottawa Sandusky offered Lucas an apprenticeship. Money was money and honest work yielded honest pay, so it would be one of the very few programs Lucas entered that didn't end in a slapfight. He even bought some of the tools for his own repairs.

Such fortune wouldn't last for long. Over the course of three weeks, Lucas reported feeling slow in one of his required classes, and vomited into a trash can. He was rushed to an infirmary but then pushed to a hospital after the condition didn't improve. Lucas remembered looking around, asking for what was going on with him. Hed been sick before but not repeatedly. The docs looked at the blood test results, nodded, and diagnosed Lucas with stage 1 leukemia.

Which sucked. So he didn't talk about it, and tried to live on. He'd carry

One of his classmates decided to steal his. That same student slipped by mentioning that, "the pale kid the first day becomes the skull kid the next," snapping the syringe.
Lucas responded by going into his locker swinging the Holy Bible (or equivalent) in his face, removing seven teeth, cracking two, and knocking him the fuck out.

And that's how he got three weeks of suspension from school. Had he provoked the incident himself, expulsion would have followed. Lucas cared about as much as he thought the faculty did, and switched schools. Writing the same assignments again and talking to other people proved preferable, though it didn't matter too much, as his father (who had switched assignments, and had a wife released from jail) decided to move outwards to a Resistance hotspot. Lucas would overhear from his father that he and Lucas's older brother managed to undercut surveillance, which didn't seem right until strange Trainers started entering through the door.

After all was clarified, Lucas decided the rebel life sounded fair. He never really saw the Plasma government as all that benevolent, given he'd waded through their schools, argued with their people, and generally didn't identify with closing opportunities for good people. He just wished he didn't have a career to tend to first; he was still called upon for contract work over the weekends and after school, after all.

Then he went back to a doctor for a check-up, where he learned that remission ended, and that he would have no more than ten years to live.

Which sucked harder.

However, the knowledge that he'd likely have just a few years to live opened so many doors for Lucas.

Plans to focus on his career were almost entirely scrapped. Sure, Lucas decided that he'd continue to practice his skills as he went. After some bar talk with an attractive informant, Lucas made the pilgrimage to find the rumored Ava's lab. Maybe he'd snatch a drink or get his hands dirty on the way.

POKEMON
NICKNAME. SPECIES. GENDER. LEVEL __.
ATTACK 1. ATTACK 2. ATTACK 3. ATTACK 4. ATTACK 5. ATTACK 6.
A paragraph of your Pokemon's personality should go here. Individual Pokemon in premade teams can not exceed level 35. You have a total of 100 levels to spread out over six Pokemon, but you do not need to use them all. If your character does not have any Pokemon, delete this section.
MISCELLANEOUS
| | |
| --- | --- |
| OOC NAME | FACECLAIM |
| ytterbjorn | tbd |
OOC: I would like to enable death for this character.