Post by Lionel Raymond James Jr. on Dec 2, 2019 23:33:03 GMT -5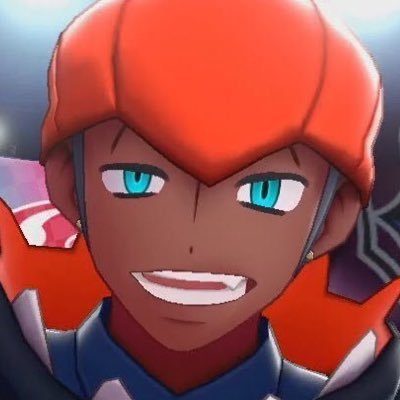 Lionel Raymond James Jr.
THE FERAL POKEMON
| | | | |
| --- | --- | --- | --- |
| AGE | GENDER | ALLEGIANCE | OCCUPATION |
| Eighteen | Male | Plasma | Trainer |
APPEARANCE
Raymond stands at 7'3 inches due to Gigantism thanks to a benign tumor that was on his Pituitary gland for longer than it should have been. There's no scar of the surgery, as Pituitary surgeries are done through the nose, but there is a slight scar on his septum from a nick during said surgery. Thankfully though, he has a healthy weight at 224 lbs and a muscular build to go with it. His skin is dark, and his hair is black, but his eyes are a vibrant teal blue. So really, the only thing Gigantism has really been detrimental to is his fashion.

His biological is plenty tall, not as tall as Raymond, but thankfully had an oversized jacket made, which just so happens to fit Raymond. He wears a dragon inspired jacket that he got from his grandparents, inspired by his dragon tamer ancestry. On his head, he has a sort of half beanie, with his dreads hanging out the back, but covering the shaved sides of his head and the tips of his ears. His ears are each pierced, and he honestly forgets to change out between all the piercings he has. He usually ends up wearing studs and leaving it at that.

It's a terrible pain in the ass for him to find any other clothes, usually ending in his shoes being custom ordered for his size, themed around dragons with a design similar to the jacket he wears, or just plain skater shoes with Mega Rayquaza printed along the sides of them. His shorts would hang past the knees of any normal person, but instead, they're above his knees like a proper pair of shorts should be. For shirts, you'll hardly ever see anything other than the collar, he usually either wears a button up shirt, tank top or no shirt at all.

When it comes to weird traits, on top of his gigantism, he has several scars dotting his body from training with his dragon Pokemon, a snaggle canine tooth and a tattoo of Mega Rayquaza stylized and wrapping around right arm. On the back of his left thigh, he has a Dialga. And on his upper back, he has Latios and Latias dancing in a black and white circle, dew covered trees framing the two.
PERSONALITY
POSITIVE
- Observant
- Clever
- Adaptable
- Unyielding
- Dependent

NEGATIVE
- Competitive
- Strong-willed
- Vindictive
- Intolerant
- Talkative
Observant - He's always looking around, and even then, he's noticing things when he's really not looking. He hears things odd and pays attention. There's a flicker? He's looking at it. Strange smell? He notices it. All of his battling and his history before orre conditioned him to pay attention to what's going on around him and others.

Clever - He's quick on his feet to think up tricks. Whether it be something as simple as a conversation with someone new or setting up skill swaps and trick rooms, he's always thinking of what's going to happen as well as what may happen as a consequence of his own actions.

Adaptable - When things in his life fall onto it's head, he's just figured out that he needs to get over it and figure it out. When a wrench is thrown into his life or his battles, he's quick to patch it up somehow. When backed into a corner, you can expect him to find a way out.

Unyielding - On top of being adaptable, he's got a strong will in the face of adversity. He doesn't give up, and he doesn't falter in combat. Both him and his Pokemon are conditioned to keep going until you can't go anymore.

Independent - Simple. Years of traveling Orre with just him and his Pokemon taught him how to take care of his self. He actually prefers if he's able to take care of his self, and learned he's alot more functional when he's not leaning on anyone else. This also applies to how he prefers to handle things though. If he's fixing something and it can be a one man job, he'd rather do it by his self.

Competitive - Ray has an incredibly competitive spirit. He's always finding ways to better his self, and gets frustrated when he loses because of his own idiocy. His hobby of training stems from this competitive spirit, and naturally, when he wins after putting in the work and after a difficult battle, he feels a kind of high from it. Whether the battle was fair or balanced against him. He sees 0 fun in being the unfair battler.

Strong-willed - Because of his independent nature and despite being as flexible as he is in combat, he's stubborn about certain things. Getting out of bed is sometimes way too hard to do, and alot of times, he passes out on his friend and refuses to move. But this can also apply to actually dealing with people. When arguing with him, it's very difficult to change his opinions on Pokemon.

Vindictive - When someone wrongs him, he has a horrible tendency to find a way to spit back in their face and get back at them. Recently, and currently, that person is mainly his father and his family in Anrui in general.

Intolerant - Ray has a surprisingly short bit of patience when dealing with certain people. When he's barraged with any kind of thing he'd consider stupid, it takes all of his strength not to hit his head against something or find the nearest pokemon to punch him across the room. He tends to get angry at these people as well if they don't get the hint that he's already exhausted and done with 'your stupid ass'

Talkative - When you DO make friends with Ray, you'll find that he talks, maybe, just a little bit, a teeny tiny wee bit too much. He loves to talk to his friends and his Pokemon, and he'll ramble on and on without thinking if you let him.
BACKGROUND
--Trigger warning for Abuse / Neglect / Infidelity--
Raymond was born into a relatively shaky situation, the start of it being that he had bright blue eyes... and neither of his parents present at that time had blue eyes themselves or in their own blood line, both of them having dark brown eyes. He grew up in a bad home environment, never really getting any peace, but not that he'd remember. When he was three years old, his mother finally got a divorce with her husband, claiming that she couldn't take anymore of his shit. Then the custody war started. He grew in Eve, dealing with phone calls from his mother trying to tell him how much she loved him, trying to manipulate him, he felt. She was the one that left after all, and every time she called, his dad would get mad at him.
This continued to boil over until finally, when he was nine years old, his father started lashing out at him worse than before. The lash out was so bad, that the police intervened after he showed up to school wearing make-up poorly done to conceal the marks. Things continued spiraling from there until, eventually, Raymond was told to pack up what he could and get ready. He was able to fit his whole life into one duffel bag, and when the police came to pick him up, it was just his Fraxure, his duffel bag and his self.
The closest next of kin that could take him in showed up at just the right time. The DNA tests showed up that his biological father had parents in Orre, and they were willing to sign the papers and take him in, so he moved to Orre when he was ten years old, and from there, things got strange. He was given a better phone, which let him stay in contact with his best friend back in Anrui, thankfully, and his grandmother had shown up to the door with some gifts for him.
Orre was a barren place, very few Pokemon and a vast desert with a volcano in the middle, there wasn't much for the youths to do there. If Pyrite town was anything, it was proof that the young in Orre were unruly with next to nothing to do. But with few Pokemon came a surprising tradition. The region was incredibly battle heavy, and his grandmother was going to utilize that. His grandparents saw potential that matched up, even possibly exceeding, their expectations of him, and had brought him five more pokemon.
And they all matched his heritage. His Grandmother presented him a Dreepy, Trapinch, Deino, Noibat and Goomy. All Pokemon that she had picked up before leaving her visit stop in her old home, Blackthorn, before coming back home to Orre. She wanted to give him the best opportunity to grow, as well as keep him out of trouble should he be anything like his biological father.
From there, he went on to battle throughout his stay in Orre. Raymond spent six years total in that country, challenging Mt.Battle to train his body and his Pokemon, attending a battle school to teach him anything he could ever want or need to know, and then eventually challenging the Colosseums. Climbing his way from Pyrite, to Phenac, Realgam and then eventually the legendary Orre Colosseum. A place where elites went to battle. His constant participations in the Colosseums and tournaments had earned him the recognition he needed to gain an invite to Orre Colosseum during his final year in the region.
The battles were hard, but he came out on the top of the competition, a team of pure dragons at his back. His confidence was at what was only described as an all-time-high, and he felt unstoppable. But his happiness wouldn't be forever. His father had somehow won the custody battle, and at sixteen years old, he was forced to return to Anrui. And with his return to anrui, his father confiscated his dragons.
It was tempting to blow that entire building to the ground right there.
But he didn't. Instead, he turned his Pokemon over and spent two more years under his roof, schooling in Eve and incredibly bitter. So bitter that he had immediately moved out when he graduated and moved into his friend's apartment, working on getting ready for a trip to Plasma labs to get a Pokemon, his friend ready to go with him as well as pulling some strings to get five random eggs, per his friend's request.
Ray was going to get a starter one way or another, and raise five completely random pokemon to smash the Anrui league and throw it back in his father's face
as well as get his dragons back.
MISCELLANEOUS
| | |
| --- | --- |
| OOC NAME | FACECLAIM |
| Daxton | [b]Pokemon[/b] - Raihan, [i]Lionel Raymond James Jr.[/i] |